All texts are for editorial use only. Photos are intended solely for editorial use (additional press photos are online ). Any use for promotional purposes is forbidden. Publication free of charge (please credit "Messe Berlin").


Stats of the Day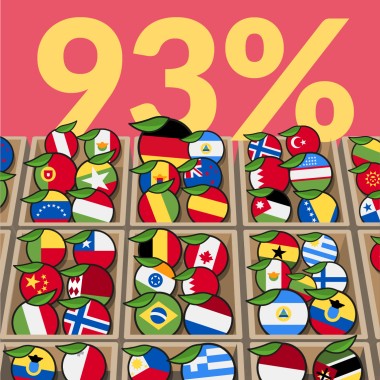 of the exhibition space at FRUIT LOGISTICA 2022 is dedicated to companies and organisations from countries outside Germany, making this year's FRUIT LOGISTICA more international than ever. A total of 88 nations are represented at the exhibition centre in Berlin.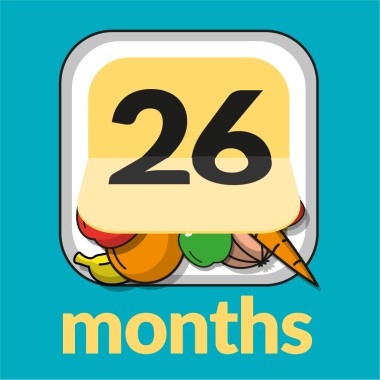 since the last FRUIT LOGISTICA in Berlin. In February 2020, FRUIT LOGISTICA was the last leading international trade fair to take place before the pandemic forced it to close. And it is now the first leading international trade show to reopen its doors to the global public in Berlin.



"Meet onsite again"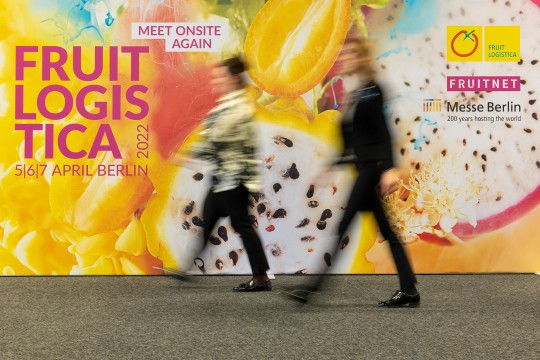 When FRUIT LOGISTICA opens its doors today, it will not only mean that the global fruit and vegetable industry's leading trade fair is once again taking place live for the first time in just over two years. FRUIT LOGISTICA is also the first in-house event organised by Messe Berlin to once again be implemented as a face-to-face event after a lengthy break. Over 2,000 exhibitors will be in attendance, from producers to points of sale.

The fruit trade thrives on trust, which grows when people meet in person. Following its pandemic-induced break, FRUIT LOGISTICA allows participants to share innovations and present products – whether fresh fruit, sprouts, sustainable packaging or picking robots.

The pandemic is having huge consequences for the sector, which are highlighted at FRUIT LOGISTICA: staff shortages, new supply chains and the question of how these factors can be combined with the major issue of sustainability. The industry needs to save costs, operate efficiently and invest in technology. 'Smart Agri' is on show for the first time at FRUIT LOGISTICA: in Hall 5.1, exhibitors will be presenting innovations in the area of digitalisation in agriculture, from intelligent harvesting robots to flying drones.

The hybrid working of recent years has also had a positive impact on the exhibition business: for the first time, there is a FRUIT LOGISTICA app that provides an interactive hall plan, exhibitor and product information, a programme overview and the opportunity to network. The app is free to download from Google Play and the App Store. All the information is also available on the FRUIT LOGISTICA website, for which you can register here.

After two years, it is now possible to meet onsite again, learn about innovations and do business. We are looking forward to the next three days and welcome you to FRUIT LOGISTICA 2022!



Three Questions to...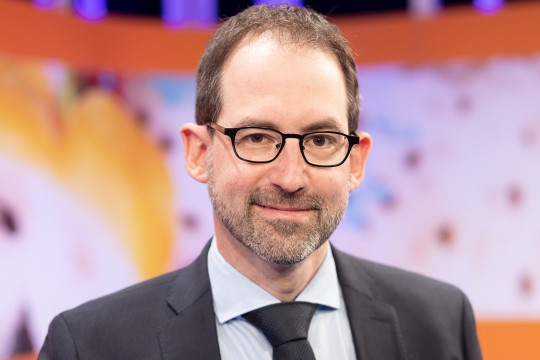 Kai Mangelberger, Project Director of FRUIT LOGISTICA

Mr Mangelberger, how important is it for the industry that an in-person event is taking place again after two years?

We carried out an exhibitor survey in the summer and it showed that virtual or hybrid events are not a viable option. Direct contact is very important to everyone. Trust in producers plays a greater role than in other industries. Partly because we deal with natural products. And in addition to that, you don't just want to see a fruit, you also want smell it, taste it and touch it. A photo of a strawberry isn't enough to be satisfied.

As a trade fair organiser, what has affected you the most in recent years?

The lack of planning certainty was a challenge that can't be put into words. The preparation time was actually much too short for such a big fair. At the same time, I also feel a lot of relief because, despite the pressure of a pandemic, it's become clear that we need personal contact and that we organisers will still be around in 10 to 20 years.

What should visitors to FRUIT LOGISTICA be sure not to miss?

In Hall 20, we have the exhibition featuring the nominees for the FRUIT LOGISTICA Innovation Award. That's a must-see for me. Apart from that, I recommend the framework programme, especially the Start-Up Stage in Hall 9 on Thursday. Our Smart Agri area in Hall 5.1 is new. This focuses on the digitisation of agriculture and artificial intelligence.



Visitor safety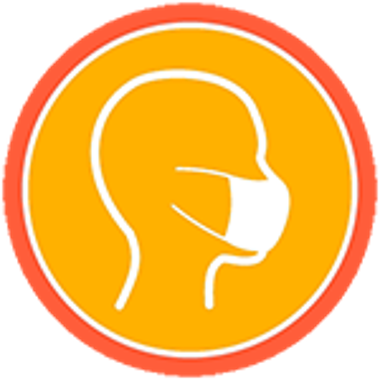 Masks are no longer mandatory at the exhibition centre. However, Messe Berlin recommends that all participants protect themselves and others by wearing a mask. Please try to observe social distancing wherever possible, especially if you are not wearing a mask. In addition, please use the hand sanitiser that is provided in many places throughout the exhibition centre.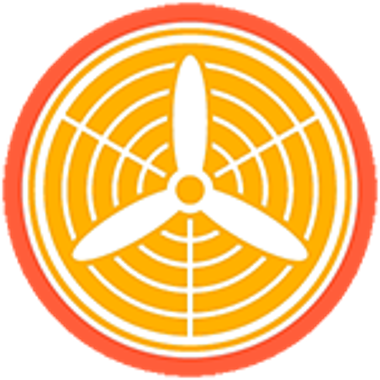 The exhibition halls have modern ventilation systems that supply plenty of fresh air at all times and ensure that it is exchanged. Surfaces such as handrails, door handles and information stands are regularly cleaned and disinfected. In the catering units, service staff from Capital Catering ensure compliance with safety standards. All hygiene information is summarised here.



Faces of FRUIT LOGISTICA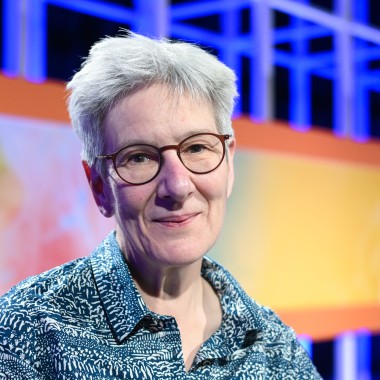 "I design everything from the biggest advertising banners to the tiniest cloakroom signs. I love this exhibition: it's so fruity, colourful and healthy. Incidentally, I'm also responsible for the visitor guidance system. So, if anyone can't find their way around, it's my fault."

Renate Groß-Pfeiler, Event Services/Graphics, Messe Berlin GmbH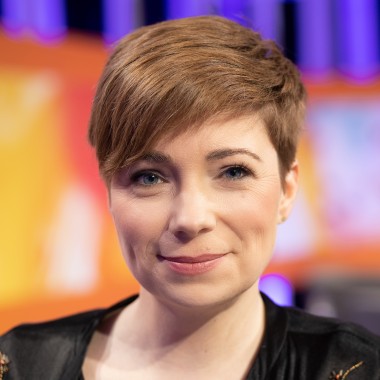 "We've been working from home for the past two years. Our work has become extremely digital. For the first time this year, we organised our digital media preview as a hybrid event in a professional studio. This was the first time for me. There was a perceptible excitement in the air."

Susanne Tschenisch, Global PR Manager, Messe Berlin GmbH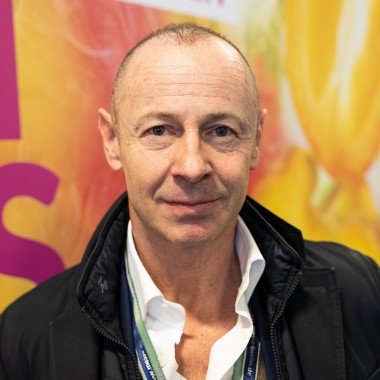 "Everything's changed since the pandemic, apart from the desire of the 350 Italian exhibitors to be reliable partners and to do business. They've arrived at the trade fair with a great deal of enthusiasm and regard it as a great opportunity."

Dr PierGoffredo Ronchi, Overseas Representative, Italy, Messe Berlin GmbH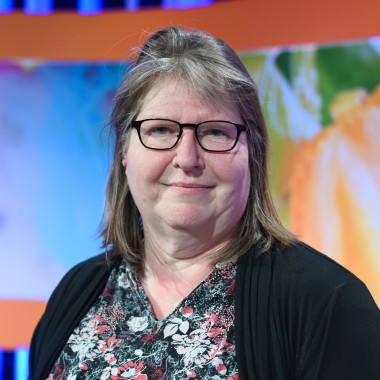 "I organise the cafés, restaurants and snack bars, as well as the event catering. Nowhere else in the catering industry you will find such variety as here at the exhibition centre. After the long break, the entire team is extremely looking forward to the start of this event."

Barbara Baarts, Project Manager, Capital Catering GmbH



Outlook for Tuesday, April 5th
• Social plastic packaging takes centre stage on the Tech Stage. Carton Pack will report on plastic that is recovered from the oceans with the aim of improving living conditions in developing countries where plastic pollution is highest.
Hall 9, Stand A-13, 10.00 - 11.00 a.m.

• Dr Susann Vierbauch from the Fraunhofer Institute will address the topic of food waste in the Future Lab. She will present methods to plan, distribute and process food in the best possible way, taking into account individual quality characteristics.
Hall 2.2, Stand D-05, 11.00 - 11.30 a.m.

• Globalism and localism– new directions? This question will be discussed by various speakers at the Logistic Hub. The topics will include critical sea and land transport interfaces for perishable goods, strategic investments in tomorrow's cold stores, and the right banana logistics.
Hall 26, Stand E-1, 2.00 - 4.00 p.m.

• The pandemic has changed many habits and everyday rituals ­– including shopping and nutrition. What changes will stay with us? This question will be discussed by the Fresh Produce Forum under the title "Consumption after Corona".
Hall 27, Stand B-09, 3.00 - 4.00 p.m.

• FRUIT LOGISTICA provides a free shuttle bus service for all visitors. It runs every 15 minutes between the north and south entrances to the exhibition centre and the surrounding hotels on the days of the exhibition from 7.30 a.m. to 11.20 a.m. and from 5 p.m. to 8.15 p.m. You can find the timetable here.

All events can be found in the new app and on the FRUIT LOGISTICA Online platform.



THE VIDEO OF THE DAY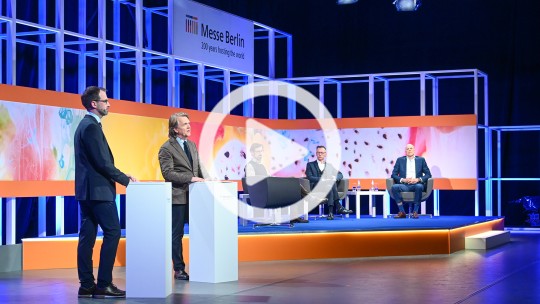 Shortly before the opening of FRUIT LOGISTICA, we assembled a panel of experts in our Media Preview to discuss the new trend report. The report can be accessed online, and this year analyses issues such as how regional food production is becoming more important, what's changing in online retail and why vegetarian and plant-based products are becoming even more important.

The latest videos, featuring the latest insights from the trade fair and expert interviews, are available on YouTube.



Susanne Tschenisch
Global PR Manager FRUIT LOGISTICA
susanne.tschenisch@messe-berlin.de
T: +49 30 30382295
Messe Berlin GmbH
Messedamm 22, 14055 Berlin, Germany

Management board: Martin Ecknig (CEO), Dirk Hoffmann
Chairman of the supervisory board: Wolf-Dieter Wolf
Amtsgericht Charlottenburg (District Court), HRB 5484 B (Commercial Code)