All texts are for editorial use only. Photos are intended solely for editorial use (additional press photos are online). Any use for promotional purposes is forbidden. Publication free of charge (please credit "Messe Berlin").


Stats of the Day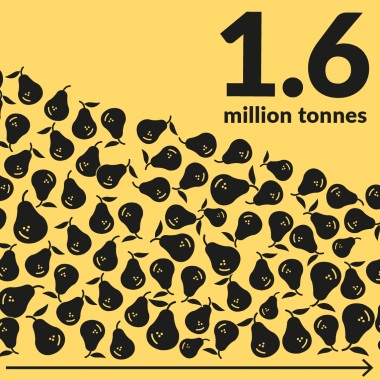 was the total pear harvest in Europe in 2021. This was a record low that hit particularly Italy really hard: due to crop failures, the volume dropped from 611,000 tonnes in 2020 to 200,000 tonnes. Apples, however, increased, totalling 11.5 million tonnes in Europe, a million more than 2020.



The new value of fresh fruit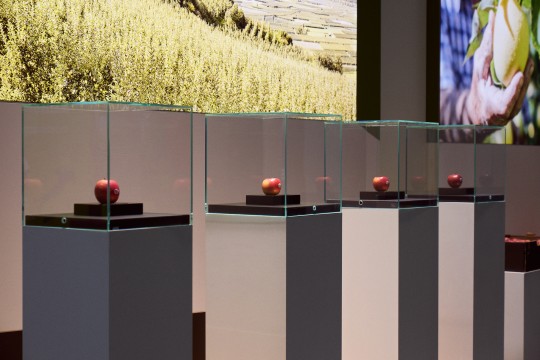 The last two years have left their mark on the fruit industry, too. On a positive note, the coronavirus pandemic has reminded people how important a balanced diet is for their health. This is also reflected by the growing significance of plant-based foods on the market. Many organisations have also tried to raise awareness of fresh fruit, including the Food and Agriculture Organisation (FAO), which declared 2021 to be the International Year of Fruits and Vegetables.

However, this trend threatens to bypass the fresh produce sector. In Europe, consumers' desire for easy, new ways to achieve a healthier diet is boosting sales in other food categories. Advertising campaigns such as 'Veganuary' result in pre-packed, processed vegan food being purchased, as shown by the Trend Report 2022. Fresh fruit and vegetables could therefore take a greater share of the growing market in the future.

Price is a major challenge, for both consumers and the industry. The sharp rise in fuel and energy prices means more difficult conditions for production and transport. Greenhouse operators in the Netherlands and the UK have already chosen to scale back production, rather than spending money on resources that they are unable to recoup. Added to this are crop failures as a result of extreme weather such as flooding and frost.

FRUIT LOGISTICA's European Statistics Handbook shows that cucumbers and peppers are coping better with the environmental upheaval and yielded larger harvests in 2021. An excellent apple harvest also offset an extremely poor pear harvest.

The differences are enormous and the challenges considerable. Overall, however, the harvest volumes in Europe have remained stable. The market also continues to grow, albeit more slowly than in previous years. One thing is clear: it has potential.



Three Questions to...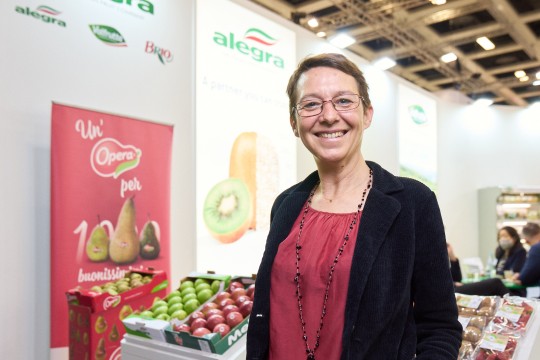 Rita Biserni, Marketing Manager at Alegra and expert for the FRUIT LOGISTICA Trend Report 2022

According to the trend report the importance of healthy food is growing. But consumers still buy a lot of processed or convenient food. Where do you see the potential for selling more fresh fruits?

We facilitate ways people can eat fruit everywhere. We evolved fresh cut and also products like the kiwi cutter, so you just cut and scoop it out. At the end of the day, the healthiest food it the fruit you buy, wash and eat as it is. But each country and person has different demands. I find it a bit frustrating that so much importance is given to the appearence. On the one hand we do not want to have waste but on the other hand, people expect to have a perfect looking fruit. Consumers should understand that fruit is not a packet of biscuits.

Inflation, rising energy costs and frost failures had an impact on your harvest and sale. How do you handle those challenges?

We had nearly 70 percent loss of our production due to the frost in 2021. Fortunately, this year we should be back to normal. Talking about inflation, my personal energy bill tripled last year. Can you image the effect for a company our size? People are going into an automatic mode to safe more money, but in my opinion, fruit should be the last thing to cut a budget on.

Could this time and circumstances also help coming back to nature instead of trying to meet the need for convenient and processed fruit?

I believe in that to 100 percent. Sometimes I'm not saying it, because I do not want to sound old fashioned, but that is the way it should be. We should honor the nature and accept what comes with it. It is also a question of sustainability. Obviously, our company has storages and packing machines that use energy, but it is nothing compared to the processed food industry. Fresh produce is more natural, safer and cheaper.



Wacky Fruits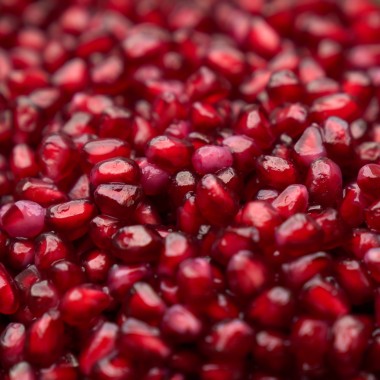 The pomegranate is called 'fruit of the gods'. The antioxidants contained in its seeds make it extremely healthy, so it is a popular addition to many meal plans. But dried pomegranate seeds are not as common. They are a handy snack for in-between and – unlike the fresh variety – will not leave stains on the sofa. The company's dried seeds originate from India, but are available worldwide. They will stay fresh in the fridge for nine to twelve months.

SamAgri Group
Hall 5.2, C-04
G.V.K. Naidu
+91 4027906577
Email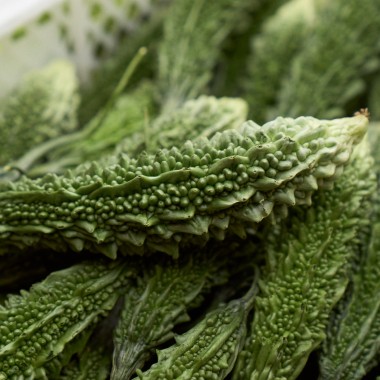 The bitter gourd (Karela) looks a bit like a spiky cucumber and is just as crunchy and watery. But it tastes more like a green pepper: it is spicy-bitter and takes some getting used to for Europeans. The vegetable is extremely popular in Tanzania, Ghana or India and is consumed either boiled or deep fried. Bitter Gourd is also used to make juice in India, as it is good for digestion. Another benefit: the vegetable is ready to harvest after just twelve to 15 days.

Moonlight Group Ltd.
Hall 8.2, B-01
Siddharth Chaudhary
+233 559446991
Email



What I've learned on Tuesday...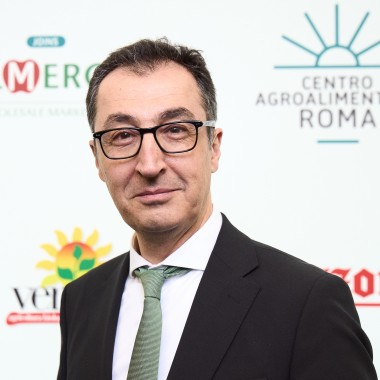 I am glad that FRUIT LOGISTICA can take place again after two years. I think it's great that Ukraine is represented. It is an important sign: Ukraine is alive. Many thanks to Messe Berlin for making this possible despite all the difficulties.

Cem Özdemir, Federal Minister of Food and Agriculture in Germany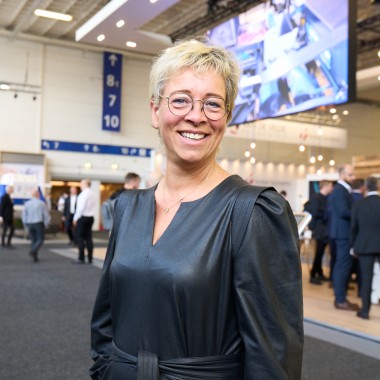 I've already learned two things in the first hour and a half: How to pick apples with a drone. So interesting! And how plants feel and that it is possible to measure their stress levels. Computer technology can be used to monitor how they are doing.

Jolanda Nooijen, Director, Compliment B.V.


This is my first time at FRUIT LOGISTICA, and I am overwhelmed by the diversity. I am very happy that Ukrainian exhibitors are also represented, and I hope that their industry will recover soon. Due to the war, the fruit now has to be transported using other routes.

Anna Deshko, Cold Chain and Logistics Manager, A. P. Møller-Mærsk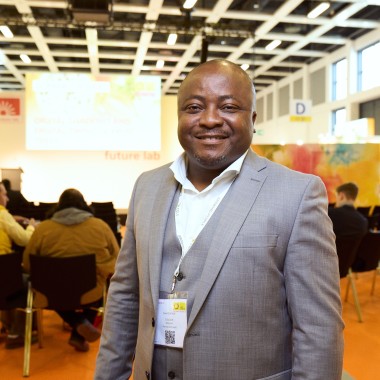 I'm particularly excited about the new technologies that deal with the value chain from start to finish. The fair is also a good place to get new perspectives to talk about people, the planet and profits. How can you do business regionally and sustainably?

Adegboyega Daniel Sodade, Project Manager, Coleacp



Outlook for Wednesday, April 6th
• Today's focus at the Logistic Hub is on Latin America, including the market benefits of seasonality, the competition between protein and fruit and the rivalry with Far East.
Hall 26, Stand E-01, 10.00 a.m. – 12.00 p.m.

• Preserving the freshness of food for a longer period is an important issue within the industry. At the Future Lab, the Leibniz Institute of Agricultural Engineering and Bio-economy is presenting a new sensor that ensures the optimum measurement of air currents, water evaporation and other factors. Hall 2.2, Stand D-05, 12.00 – 12.30 p.m.

• Biodiversity is under threat, although fruit production would otherwise be impossible in the long term. Experts at the Fresh Produce Forum discuss how biodiversity can be combined with banana production.
Hall 27, Stand B-09, 1.00 – 2.00 p.m.

• The Tech Stage is heralding a new era of agricultural technology. Calibrafruta will showcase the use of airborne autonomous robots that measure the ripeness of Rocha pears and pick them autonomously.
Hall 9, Stand A-13, 2.30 – 3.30 p.m.

• All trade visitors are invited to vote for the nominees for the FRUIT LOGISTICA Innovation Award (FLIA) over the first two days of the trade fair. The FLIA 2022 award ceremony is on Thursday.
Special exhibition in Hall 20, Stand A-12

All events can be found in the new app and on the FRUIT LOGISTICA Online platform.



Video of the Day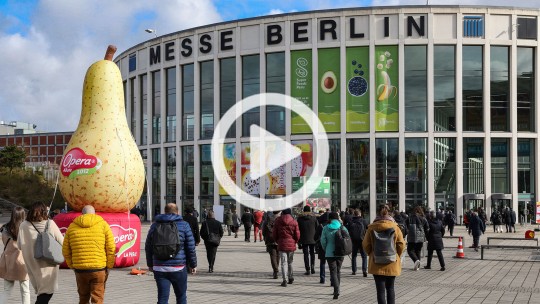 26 months pause, 2,000 exhibitors from 88 countries and three days time: these is the key data of FRUIT LOGISTICA. After the long break due to the coronavirus pandemic, visitors from the global fresh fruit industry returned to Messe Berlin today. The video of the day shows what makes FRUIT LOGISTICA so special for them.

The latest videos, featuring the latest insights from the trade fair and expert interviews, are available on YouTube.


Susanne Tschenisch
Global PR Manager FRUIT LOGISTICA
susanne.tschenisch@messe-berlin.de
T: +49 30 30382295
Messe Berlin GmbH
Messedamm 22, 14055 Berlin, Germany

Management board: Martin Ecknig (CEO), Dirk Hoffmann
Chairman of the supervisory board: Wolf-Dieter Wolf
Amtsgericht Charlottenburg (District Court), HRB 5484 B (Commercial Code)