All texts are for editorial use only. Photos are intended solely for editorial use (additional press photos are online ). Any use for promotional purposes is forbidden. Publication free of charge (please credit "Messe Berlin").


Stats of the Day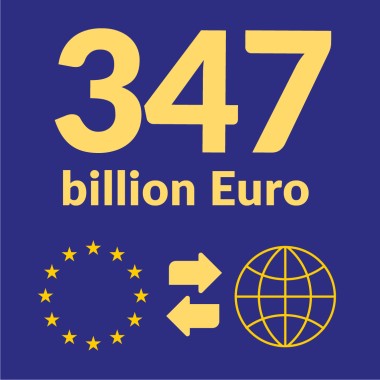 This is the total volume of trade (imports and exports) in agricultural goods between the European Union and the rest of the world in 2021. The EU exported more than it imported (€197 compared to €150 billion). Most of the imports come from Brazil (€13.4 billion), followed by the UK (€13 billion).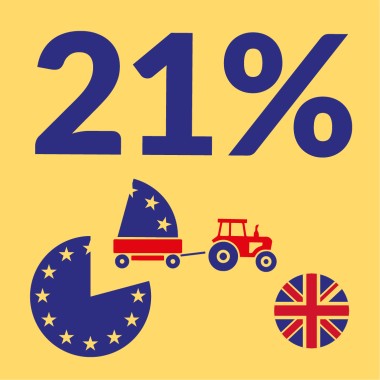 of the EU's agricultural exports went to the UK in 2021, making it the largest buyer of agricultural goods, followed by the US (twelve percent). The impact of Brexit on the fruit and vegetable industry is far smaller than originally feared. But the rise in administrative costs and workload is an entirely different matter.



Changes to supply chains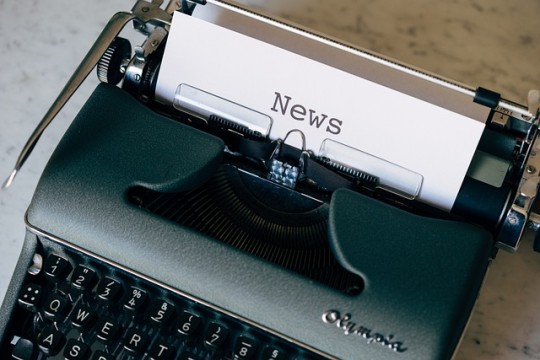 Empty supermarket shelves were a powerful image during the coronavirus pandemic. Besides the fear of production and supply shortages, some firms also transported cargo in passenger planes. Much has changed. Most restrictions are no longer in force. But the challenges of safeguarding the global fruit and vegetable trade are as great as ever.

Labour shortages, in particular, are affecting the industry – along the entire production and supply chain. The fact that the number of container ships has simultaneously increased, makes this a real problem. Currently, 90 percent of the world's goods and commodities are transported by container ships. At Europe's largest fresh fruit hub, in the port of Antwerp, fruit and vegetable shipments account for around ten percent of the total volume. 40 million standard containers are in use worldwide. But instead of refrigerated freight, more and more dry goods are being transported. There are bottlenecks for fruit and vegetables, especially from Latin America and Europe. Urgently required containers for fresh produce are in the wrong place. An issue that is also being discussed at FRUIT LOGISTICA, which is seeking solutions in many formats.

Within Europe, Brexit has also played a major role. The repercussions of the UK's exit from the European Union (EU) may not have affected the fruit sector as much as feared, but a lot more formalities are now required. Supply Chain Act is currently the subject of heated debates within the EU. It is intended to oblige companies to keep an eye on the entire value chain. The aim is to protect people and nature.

Short supply chains can help increase sustainability. Consumers also prefer more and more regionally produced fruit and vegetables. This creates an awareness of which products are currently in season. And this in turn has a positive impact on our carbon footprint – aspects that are becoming increasingly important in retail.



Three Questions to...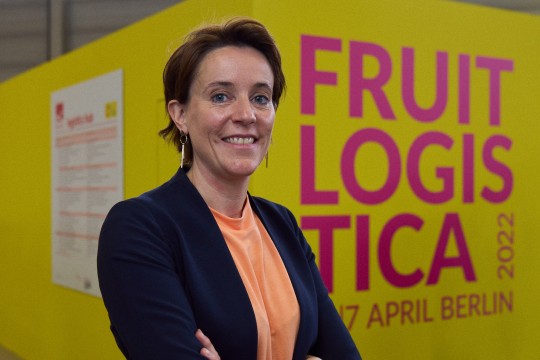 Ingrid Vanstreels, Business Development Advisor Shippers & Forwarders, Port of Antwerp

Experts discuss the disruption in the international freight business. As the second biggest harbor in Europe, what changes do you notice?

Customers are searching for vessel capacities and vessels are delayed. There is also a shortage of equipment which will only be solved until 2023. This results in terminal congestions. If you have vessels coming late you have also containers remaining on terminals. We also face a massive lack of labor. After a very good time in the last years, we are in a vicious circle right now and asking ourselves, how do we get out of this and find solutions. Every customer in the supply chain need to change a little bit of his behavior.

What are the biggest challenges?

The average delay of container vessels is seven days. It is huge and has a big impact on our terminal productivity. Another challenge is the port efficiency and being ready for the future. And it's keeping us busy to transform the energy in our ports to be sustainable. We have a very ambitious goal to be climate neutral in 2030.

What new developments do you find helpful to increase efficiency?

There are a number of new digital tools and technologies. We are increasing our digital transparency on our port platform to help customers to make better decisions. We are trying to channelize everything and make it more transparent. But I would not say it is new technology. It is just investing and creating better digital tools.



Wacky Fruits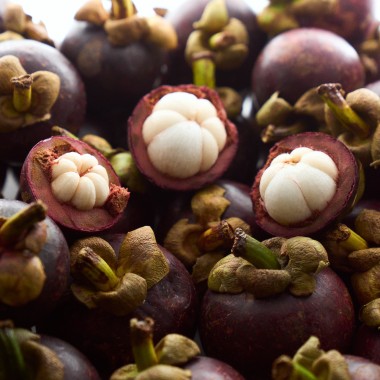 The mangosteen is a fruit with a hard skin hiding its soft texture. It tastes a bit like a banana with orange juice. It ripens on the Garcinia Mangostana tree, which grows extremely slowly: the first harvest is after around seven years. The mangosteen owes its nickname, 'queen of fruits', to Queen Victoria, who promised a knighthood to every sailor who brought her one.

Juan Matas
Hall 23, D-02
Santiago Gomez
+57 44489050
Email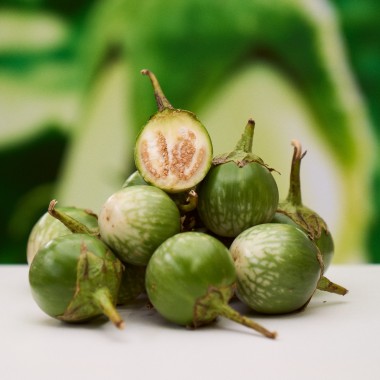 The "garden eggs" are 100 percent vegan: they are African aubergines. In Ghana, it is one of the most commonly consumed vegetables, along with tomatoes and peppers. Depending on the variety, the garden egg tastes spicy-bitter or slightly sweet. It can be eaten raw, for example sliced on bread. But it is usually served hot, for instance stuffed and baked or diced in a stew.

Ghana Export Promotion Authority
Hall 26, E-24
Dr Felix M. Kamassah
+233 244196228
Email



What I've learned on Wednesday...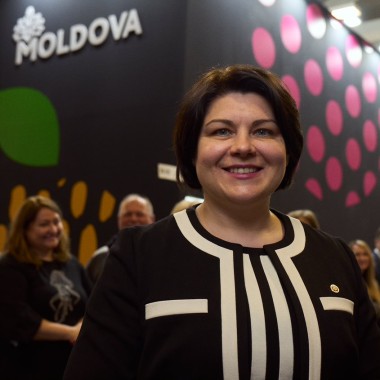 It is very important for Moldova to be represented at the trade fair and to open up new markets for our cultural products. This is becoming particularly important in the light of the conflict in the Ukraine and the food security challenges that we may face.

Natalia Gavrilița, Prime Minister of the Republic of Moldova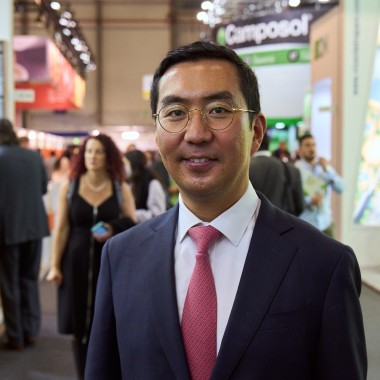 This is my first FRUIT LOGISTICA. I am impressed how big it is and so far, very useful. I like to walk through the fair category by category, that helps me a lot. Because of the Covid many of my colleagues from Asia could not join. In our company I am the only one.

Sungkyung Gye, Head of Inspection Team, Control Union Korea Co., Ltd.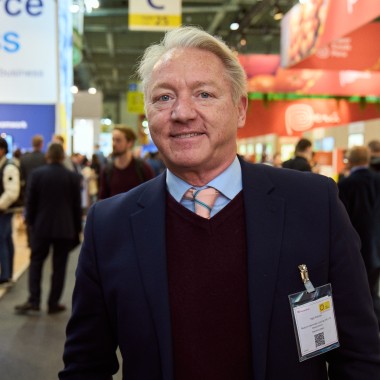 I've learned how much people like to actually meet in the flesh rather than on zoom. We had fabulous meetings. As a container company we have been to the Logistics Hub. It was quite interesting as they talked about the equipment shortage which is a big problem for the industry.

Nigel J. Webster, Vice President, Beacon Intermodal Leasing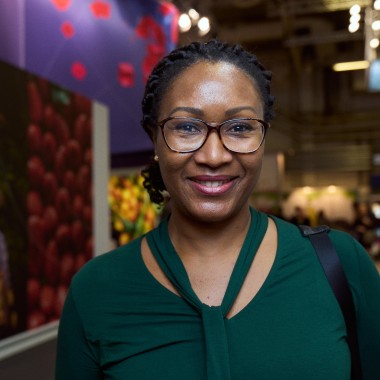 I enjoy everything so far, especially the new things we can do with mangos and seeing mangos from different countries. I like the varieties from Costa Rica and Spain and that we can also grow them in Ghana. I also love the innovations in hall 20, especially the compostable fruit stickers.

Sandra Snowden, Director, Hendry Farm Ghana



Preview for Thursday, April 7th
• Thursday is Start-up Day at FRUIT LOGISTICA. Companies will gather at the Start-up Stage under the motto 'Disrupt agriculture' to present new products, projects and ideas for advancing the industry. Asite the stage, the Start-up Area will provide space for networking.
Start-up Stage: Hall 9, Stand A-13, 10.00 a.m. - 2.00 p.m.
Start-up Area: Hall 9, Stand B-09/10, 10.00 a.m. - 4.00 p.m.

• Visitors are invited to attend four talks on the topic of logistics for perishable goods in the Logistics Hub. The talks will cover digitalisation, distribution and the correct approach to crisis management.
Hall 26, Stand E-01, 10.00 - 11.40 a.m.

• How does modern, intelligent logistics need to be organised in the fruit industry? Three experts will discuss this question during the Fresh Produce Forum, outlining innovative solutions, technical developments and the expectations of retail partners.
Hall 27, Stand B-09, 10.00 - 11.00 a.m.

• Dealing with food waste and packaging is a major global issue. The research institution Empa from Switzerland will visit the Future Lab to present a possible solution: a cellulose protective layer made of pomace for fruit and vegetables, which consumers can easily wash off and even eat.
Hall 2.2, Stand D-05, 12.00 - 12.30 p.m.

• The last day of the trade fair is traditionally the time to present the FRUIT LOGISTICA Innovation Award (FLIA)! It honours outstanding ideas and solutions in the fruit and vegetable industry, from production to point of sale. All participants of the trade fair could vote on Tuesday and Wednesday, today we find out who wins the race.
Transition Foyer Halls 20/21, 2.30 p.m.



Video of the Day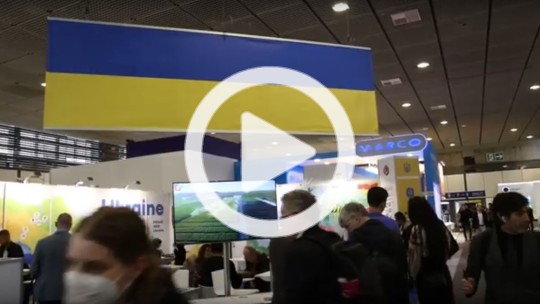 Despite the war, Ukraine has managed to organise a presence at FRUIT LOGISTICA. Ten companies are presented at the Ukrainian Berries Association. The association's President Iryna Kukhtina explains what it means to be at the trade fair and what the future holds for her own industry.


The latest videos, featuring insights from the trade fair and expert interviews, are available on YouTube.


Imprint
Susanne Tschenisch
Global PR Manager FRUIT LOGISTICA
susanne.tschenisch@messe-berlin.de
T: +49 30 30382295
Messe Berlin GmbH
Messedamm 22, 14055 Berlin, Germany

Management board: Martin Ecknig (CEO), Dirk Hoffmann
Chairman of the supervisory board: Wolf-Dieter Wolf
Amtsgericht Charlottenburg (District Court), HRB 5484 B (Commercial Code)