---
Page content
Follow me - the Organic-Route of FRUIT LOGISTICA
Follow me - the Organic-Route of FRUIT LOGISTICA
Organic is booming
Organic food sales reached a new record high in 2021. In the past ten years, organic food sales have more than doubled. Worldwide, the purchase of organic products is becoming increasingly popular - global sales have seen continuous growth in recent years.
This trend is also reflected in the annually growing numbers of registered exhibitors with certified organic products. The free Organic Route at FRUIT LOGISTICA is attracting more and more exhibitors every year.
Create your own personal highlight tour:
The Organic-Route is an offer to our trade visitors to reach the suppliers of certified organic products easy, quickly, directly at FRUIT LOGISTICA.
Exhibitors with these products are highlighted by the respective route symbol in the FRUIT LOGISTICA Online. The symbol is both a signal and a signpost.
Compile your Organic-Route with a click in the FRUIT LOGISTICA Online.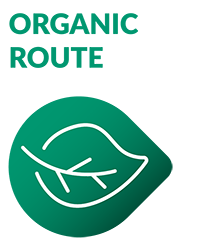 Conditions of participation for exhibitors at the Organic-Route:
*** Requirement: Certificate for fresh organic products ***
Do you have a fresh organic product in your portfolio with which you would like to participate at FRUIT LOGISTICA? You can upload the organic certificate within your online registration and send it to the following email: fruitlogistica@messe-berlin.de
This is also the application for participation in the Organic-Route. You will receive feedback in a timely manner as to whether you have been accepted as a participant for the Organic-Route.

The organisers of FRUIT LOGISTICA reserve the right to exclude exhibitors from participation in the route if all the above conditions for participation are not met.
Please note: Machinery, organic fertilisers, organic certified freshness enhancers etc. cannot be allowed in the route.